We've certainly travelled far and wide in 2021. Even during a pandemic!
Last year we visited many local communities across 7 states and territories supporting our members, attending events and meeting local community members, service providers and health professionals.
These visits continue to help us understand what you're looking for in a community information platform, how we can help you connect and share information as easy as possible and support the work you do in your local communities.
We understand how important it is for your community to have access to a key resource that brings information together and helps people find what they need. All of this supports our mission to connect every Australian every month to local community information.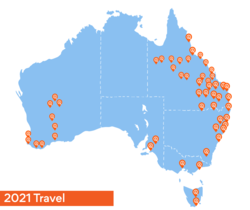 We've been busy!
A couple of highlights for our team as we road tripped through the Goldfields Region of WA and tackled the remoteness of rural Queensland, even a puncture thrown in for good measure!
We were able to catch a few flights in between border closures and lockdowns to get us around the country and can't wait to hit the road again in 2022.
We hope to see you in your local community.