BETTER BEGINNINGS
GRANTS PROGRAM COMING SOON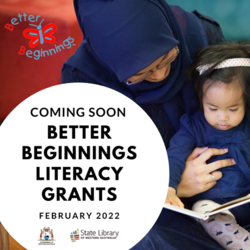 The State Library of Western Australia is excited to announce the upcoming launch of the Family Literacy Community Grants Program in February 2022.
The grants will fund Western Australian early literacy initiatives that support the aims and messages of the Better Beginnings family literacy program, encouraging parents and carers to Read, Talk, Sing, Write and Play with their child every day.
Innovation Micro Grants from $5,000 to $10,000 will be available for small projects, and Innovation Program Grants from $10,000 to $30,000 will be available for larger programs or initiatives. Public Libraries and community organisations will be able to apply for both.
Grant Applications open on 14 February 2022 and further information will be available on the State Library website closer to this date.