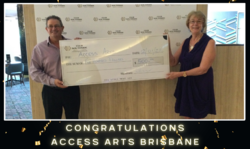 Congratulations to Access Arts the winner of our December competition for Clubs & Groups across the Brisbane region.
Thanks to our partner Club Southside who generously donated $500 towards a Club or Group listed on the Brisbane Community Directory.
Pictured here is Pete O'Grady, Business Manager, Club Southside and Pat Swell, CEO, Access Arts.
Pat was thrilled with the cheque for $500 and said it will make such an immense difference to their artists who experience disability and enable opportunities for them that may otherwise have not been possible. To see what is going on at Club Southside visit their website.