Our team is committed to ensuring we understand the support not only our members need but how we can continue to make information more accessible for the community.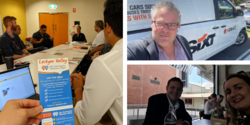 In the past month alone, we have had our membership team out to Lockyer Valley to work with an interagency on how we may be able to support their goals. This was a great event as not only we were able to work with service providers on how MCD can support them but we gained an understanding of the challenges service providers face.
Also our Executive Director, Brentyn Parkin made a trip to Perth to work with our members and how we can continue to support their goals and how we are progressing in WA.
These trips are key as we gain understanding on how we can continue to improve and grow the platform.
If you have an event that can help promote MCD or community info we would love to hear about it.