Event held on December
01
Weekly Return Bus Service from Kaniva to Horsham
Provided by:

Community Transport - Horsham

Event runs from

8:45 AM to 4:30 PM
Weekly on Wednesday
To Be Held At
Community Transport - Horsham

Find out more about this location...
Visit this location on the My Community Directory website. Note, this opens in a new window.
About the Event
Additional Information
Fares:
Kaniva to Horsham and return = $13.00
Nhill to Horsham and return = $9.00
Dimboola to Horsham and return = $5.00
About
Each Wednesday Centre for Participation in partnership with West Wimmera Shire operate a minibus service from Kaniva to Horsham and return. This is the following transport pick up and departure schedule:
Start Kaniva – Pick up from door 8:45am
Nhill – Information Centre/Western Highway – 9:30am
Dimboola - Bus stop near corner of Lloyd and Lochiel Streets opposite IGA Supermarket – 10:00am
Horsham - Coach Terminal/Roberts Ave (Horsham) ARR – 11:00am
In town drop offs
Wimmera Health Care Group – (Horsham Hospital) Baillie Street
Horsham Plaza – Darlot Street
Tristar Medical Group Car Park –1C Madden St,
Centre for Participation – 39 Urquhart Street
Departure from Horsham Pick up times: Starting from 2:30pm in Horsham.
Leave Horsham 3:00pm
Dimboola - Bus stop near corner of Lloyd and Lochiel Streets opposite IGA Supermarket – 3:30pm
Nhill - Information Centre/Western Highway – 4.00pm
Kaniva – drop of door to door – 4:30pm

Edit Event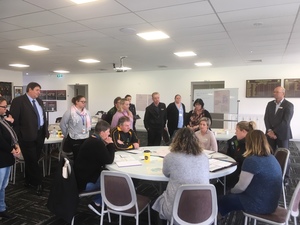 Extra Information
Source Community Transport - Horsham
Type Outreach Service
Format Transport Hub